Florence Henderson, 80, Has A 'Friend With Benefits'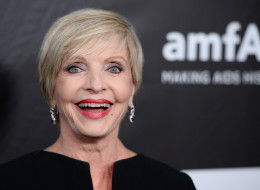 "Brady Bunch" mom Florence Henderson sure isn't living in a 1970s TV show.
"I actually have a friend with benefits!" the soon-to-be 81-year-old actress told Closer Weekly.
Henderson, divorced and widowed, said her sex buddy is a chiropractor in Fort Lauderdale, Florida.
"There is no age limit on the enjoyment of sex. It keeps getting better," Henderson told Closer. "You learn to do things with more experience, intelligence and the ability to choose more wisely."
The prime-time matriarch, whose family comedy "The Brady Bunch" originally aired from 1969 to 1974, is apparently on to something. According to a 2012 survey in the American Journal of Medicine, women over 80 said they had a greater frequency of sexual satisfaction.
And a more recent study, from The University of Manchester and NatCen Social Research, indicated that a third of women over 70 were still sexually active.
Henderson told Closer that she preferred younger men because they can keep up with her.