We went from almost getting rained out to The Phillies getting wiped out last night! Yankees now lead 2 games to 1 after an 8/5 victory last night! Andy Pettitte added to his ML record of 17 post season wins.
We have 3 games down with 2 to 4 more games to go, starting with tonight's game 4 taking place in Philladelphia, and is schedule to take place at 8:20 PM EST. (Why do they have to beat so late nights?)
Tonight's starting pitchers are:
For The NY Yankees
CC Sabathia
Who got the best record in Baseball'for 2009--
but lost the 1st game of the series!
For The Phillies: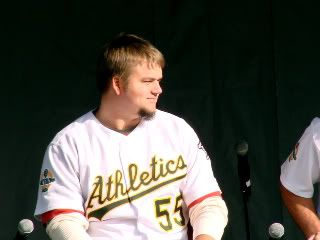 Joe Blanton
He also pitched game 4 in last year's
World Series and was dominant with a win of 10-2
over The Devil Rays.
By the way folks--Did u know that the Philladelphia 76ers were in NY playing The NY Knicks last night? The 76ers won that game 141 to 127!!