Farmers in the Midwest are using fillers to try and stretch cow feed which is in short supply this year due to record breaking heat and drought.  They are supplementing the cows' diets with items like ice-cream sprinkles, peanuts, gummy worms and even chocolate.

I'm sure this isn't as strange as it sounds and the situation is far from funny, but I can't help but smirk while wondering if feeding a black cow candy bar to cattle would be considered cannibalism.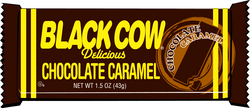 http://news.yahoo.com/sweet-times-cows-gummy-worms-replace-costly-c...